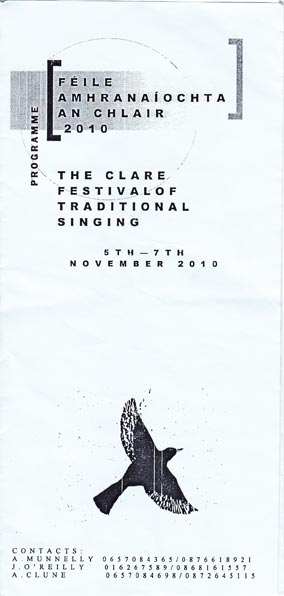 THE CLARE FESTIVAL OF TRADITIONAL SINGING 2010
--

INTRODUCTION:
The Festival ran in Ennistymon for 13 years from 1990 to 2002. It was run for a further two years in the Bellbridge hotel under the stewardship of Tom Munnelly. it is now being run in the Bellbridge Hotel to foster traditional singing in Tom's memory.
PROGRAMME 2010 
This Year's Theme: Our Sense of Place
FRIDAY
8.00pm
Opening Launch by Nicholas Carolan, Irish Traditional Music Archive.
(Food Sponsored by Bellbridge Hotel.)
8.45pm
Lecture:
Writing Songs in the Traditional Idiom.
John Moen & Con Fada Ó Drisceóil
10.00pm
Informal Singing Session with Annette Munnelly
SATURDAY
11.00am
Singing Workshop facilitated by Anne Skelton and guests
2.00pm
Amhráin i nGaeilge—Róisín White sa Chathaoir
3.00pm
Informal Singing Session with singers in Irish and English -Colm Munnelly, MC
4.00pm
Seminar: Does My Own Place Define Me?
With Treasa Ní Cheannabháin, Páidí Ó Lionáird, Roisin White and Jerry O'Reilly
Chaired by Anne Clune.
8.00pm
Grand Concert of Traditional Singing Presented by Sean Malone.
The Four Star Trio, Páidí Ó'Lionáird, Sean Moen, Naisrín Elsafty, John Lyons, Nell Ní Chróinín, Roisin White, Anne & Joe Skelton, John Hegarty, Jerry O'Reilly
10.30pm
Informal Singing Session With Páidí Ó Lionáird
Sunday
FAREWELL - 1.00 p.m.
Farewell Singing Session hosted by Jerry O'Reilly in Marrinan's Pub
PARTICIPANTS:
Nicholas Carolan A friend of the festival for many years, Nicholas is a welcome visitor after quite a few years.
The Four Star Trio: Con Fada Ó Drisceóil, Pat (Herring) Ahearne, Johnny McCarthy. Lively music, songs and craic.
Páidí Ó Lionáird: Páidí comes from Coolea, from a well known family of singers, with a long tradition behind him. 1st visit to Féile Amhráníochta an Chláir,
John Lyons: An old friend of the festival, John Lyons has an international reputation as a singer and makes a very wel­come return visit after many years.
Sean Mone: Sean is a well known song writer who has gained no little acclaim for some wonderful songs written on topical issues. This is his first visit to the festival.
Naisrín Elsafty: Naisrín comes from a very solid tradition of singing in Connemara. She has made her mark in several competitions and is well known in her own right
Treasa Ní Cheannabháln: Treasa is the mother of Naisrín El­safty, and her siblings who are all singers. She is a fine singer in her own right.
Jerry O'Reilly: A stalwart of An Goilin Traditional Singers Club for many years, Jerry has been singing songs since he was a teenager. He has a CD out "Down from Your Pulpits" and is in the process of preparing another one for publication.
Nell Ní Chróinín: Nell is a young singer who has already be­come well-known in singing circles. She hails from Coolea and is a fine representative of her own tradition.
John Hegarty: John is a young singer from Mayo and is making his first visit to our feile. He has amassed a store of local songs.
Róisín White: Róisín is an old friend of Feile Amhraníochta an Chláir. President for many years, she has a new CD out called" With Thanks" and we hope to hear songs from it.
Anne & Joe Skelton: Anne and Joe are well known in traditional circles. Anne sings a lot of her father, John Kelly's songs and Joe is a multi instrumentalist. This is their first time on our programme.
REGISTRATION:
TICKETS
LECTURE & SEMINAR & WORKSHOPS ----- €5

GRAND CONCERT €20
WEEKEND TICKET €30

	

SPECIAL OFFER:


	The Bellbridge House Hotel are giving a special rate for the weekend 
to those attending of 
€119 for 2 nights Bed and Breakfast and 1 Evening Meal on Saturday