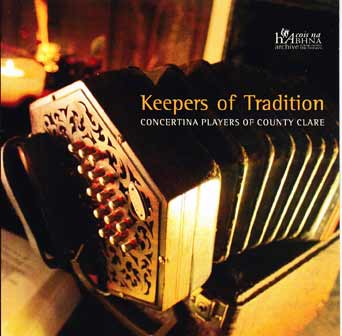 C029-KoT
Keepers of Tradition
Concertina players of County Clare
Price:
€16.60 incl postage in Ireland.
€18.25 incl postage Worldwide
-
Paypal Ireland:
Buy now for delivery in IRELAND
Paypal outside Ireland:
Buy now for delivery WORLDWIDE
Availability:
This item is in stock and is normally dispatched within 24 hours of order.
 NOTE: if you do not wish to use Paypal you may purchase this CD set by sending a EURO cheque to OaC, Spanish Point Rd., Miltown Malbay, Co. Clare, Ireland. Your CD set will be dispatched as soon as the funds have been cleared through our Bank account.
 
List of Tracks:
01. SONNY MURRAY
Slip Jigs: Give Us A Drink Of Water. Drops of Brandy
02. ELIZABETH CROTTY
 Reel: The Copperplate
03. PADDY MURPHY
Reel: Five Mile Chase
04. CHRIS DRONEY
Jigs: Boys Of The Town, Jim Droneys
05. SOLUS LILLIS
Jig: The Larks March
06. TOM CAREY
Reel: George Whites Favourite
07. MARY ELLEN CURTIN
Jig: Maids of Glenroe
08. BERNARD O'SULLIVAN
Polkas: The Girl I Left Behind Me, Maggie in the Wood
09. GERALD HAUGH
Hornpipes: Morans Fancy, Off to California
10. TOMMY MCMAHON
Reel: Ships Ate Saling
11. JOHN NAUGHTON
Jig: Connaughtman's Rambles
12. KITTY HAYES
Reel: Josie's favourite  (Reel of Rio)
13. MARTIN PURTILL
Reel:  Dan Breen's
14. JOHN LAHIFF
Reel: Foxhunter's
15. BRIDGET DINAN
Hornpipe: Dream Hornpipe

16. PAKIE RUSSELL
Reel: Comaught Reel
17. Gerdie Commane
Barndance: Kilnamona Barndance.
18. JOHN JOE CASEY
Jig: The Fergus Jig
19. JOHN KELLY
Reels: The Bunch of Keys The Flogging Reel
20. MARTY O'KEEFFE
Jigs: Blackthorn Stick, Saddle the Pony
21. JACK MURRIHY
Reel Sporting Nell
22. MICKEY CARRUCANE
Reel: Merry  Blacksmih
23. MOLLY MCCARTHY
Hornpipe: Mollies
24  TOMMY MCCARTHY
Reels: Mountain Top, Flower Of The Flock   
25.  CATHERINE MULLALLY
Jig Pakie Russell's
26. PADDY KIERSE
Jig Brody Keirse's
27. MICKIE O'DONOGHUE
Reel:  Star of  Munster.
28. MARTIN FAHY
Jigs: The One That Was Lost, Seamus Cooleys
Extract from Sleeve Notes:

Archives are valuable repositories of information about the past, storing and preserving primary source material that documents the culture and history of individuals, families, communities and nations. There is a perception that archives are inactive, static spaces, hording material that may be of little or no use except to the academic researcher. However, the CD that you now have in your possession, clearly points to the contrary. Produced by archivists Joe O'Connor and Frank Whelan, 'Keepers of Tradition' is a compendium of concertina field recordings from the Banner county, garnered from the archives of Cois na hAbhna, the Regional Resource Centre of Comhaltas Ceoltoiri Eireann in Ennis, County Clare, the Comhaltas Archive, Topic Records, RTE Libraries and Archives and Claire Keville's field recordings. The CD is a veritable 'who's who' of older generation concertina players and features 28 exponents of diverse styles who have influenced the multiple trajectories of concertina music in the county, and beyond, for well over a century.
The importance of this recording cannot be overstated when one realises that it is almost 35 years since the release of Irish Concertina Styles', an LP on the Topic/Free Reed label that documented some of the diversity of Irish concertina styles among a predominantly aging cohort of exponents in the 1970s. Dominated by Clare musicians, that monumental recording featured luminaries such as Paddy Murphy, Chris Droney, Sonny Murray, Gerald Hough, Packie Russell, Tom Carey, Solus Lillis, Tommy McMahon and Bernard O'Sullivan, all of whom have taken their rightful place in the pantheon of Irish concertina music. 'Keepers of Tradition' now adds some other names to that pantheon by featuring (in addition to the afore-mentioned exponents) tracks from an additional 19 musicians, including Martin Purtill, Gerdie Commane, Bridget Dinan, Mary Ellen Curtin, Elizabeth Crotty, Kitty Hayes, Molly McCarthy, John Joe Casey, John Lahiff, John Naughton, Mickie O'Donoghue, Mickey Carrucane, Tommy McCarthy, Jack Murrihy, Paddy Kierse, John Kelly, Martin Fahy, Marty O'Keefe and Catherine Mullally.
'Keepers of Tradition' is a treasure trove of musical gems, spanning a broad spectrum of time and place, from 'older' players like east Clare's Mickie O'Donoghue and Bridget Dinan (born in 1888 and 1891 respectively) who experimented on cheaper German concertinas, to more 'modern' players such as Paddy Murphy, John Kelly and Sonny Murray etc, who developed complex fingering techniques on the more sophisticated Anglo-German models such as Wheatstone and Jeffries. A striking feature of this recording is the idiographic and idiolectic nature of the tune settings. Listen to the beautiful version of The Lark's March played by Solus Lillis, Dan Breen's Reel as played by Mattie Purtill and Mickie O'Donoghue's version of The Star of Munster. These, like so many of the tracks on this recording demonstrate indisputably that the real beauty of traditional Irish music lies in the interpretative powers of the individual performer.
All of these tracks are of course field recordings, captured in the kitchens and sitting rooms of the musicians and consequently lack the technical refinement that comes with studio recording, production and post-production. If anything, the ambient sounds, the background chit-chat all add to their authenticity, opening a window into the old world habitus for music making in times past, the family home.
Joe O'Connor and Frank Whelan deserve to be commended for making such an invaluable collection of concertina music available to the public. It will prove to be a very important source of reference to many in the months and years ahead. Such a project illustrates the importance of having archives of Irish traditional music song and dance, as well as the importance of donating material to them. Making such material available to professionals and enthusiasts such as Joe and Frank ensures that our music, song and dance culture from times past can be returned in context, back into the community from where it came in the first instance.
Ádh Mor oraibh.
Tim Collins,
Government of Ireland Scholar,
Centre for Irish Studies, National University of Ireland, Galway
Other Information:
CNH007CD
2009
Comhaltas Ceoltóírí Éireann