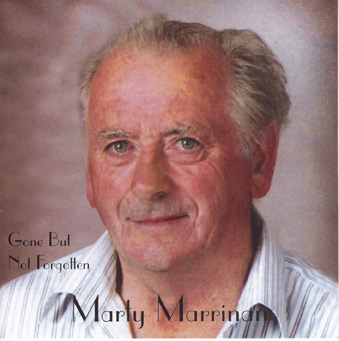 C037 MartyM
Gone But Not Forgotten

Marty Marrinan
Price:
€11.60 including postage in Ireland
13.25 including postage worldwide.
Paypal Ireland:
Buy  now for delivery in IRELAND
Paypal outside Ireland:
Buy now for delivery WORLDWIDE
Availability:
This item is in stock and is normally dispatched within 24 hours of order.
 NOTE: if you do not wish to use Paypal you may purchase this CD set by sending a EURO cheque to OaC, Spanish Point Rd., Miltown Malbay, Co. Clare, Ireland. Your CD set will be dispatched as soon as the funds have been cleared through our Bank account.
 
List of Tracks:
McNamara from Clare (3.23)
My Kerry Hills (6.03)
Nancy Hogan's Goose (2.47)
Lily of the West (2.17)
Reels (with Mrs. King & John Joe Tuttle) (2.05)
Boys of Barr na Sraide (3.55)
Dear Little Isle (4.50)
Around the Chapel Gate in Cooraclare (3.48)
The Old Man (4.42)
The Tailor Ban (3.59)
Blessed Christmas Day (4.14)
Jig: Lark in the Morning (with Tommy Browne) (2.08)
Farewell to Lissycasey (3.30)
McTigue's Beef (5.17)
Shining Dagger (3.34)
Second Figure of the Caledonian Set (1.45)
Marrinan from Sweet Cooraclare (Seamus Mac Mathuna) (5.41)
Extract from Sleeve Notes:
Marty Marrinan [1940 - 2011]
Marty Marrinan was a flute player, set dancer and singer. He began to play the tin whistle at the age of eleven, inspired by his mother, Mary Kate Neenan, a beautiful concertina and fiddle player, who played into her nineties before passing away at the age of 99. But, for Marty's father, Sean, farm work was more important and so Marty practised his music in his spare time. When Marty was growing up, there were many local musicians, including Paddy Burke, Michael Donnelly, Paddy Looney and Nora Mclnerney. Many nights were spent at Paddy Burke's house learning tunes and playing for house dances and Marty remembered an American Wake taking place when he was sixteen - the first time he heard Mrs Crotty playing the concertina.
Marty became known as one of the leading exponents of the songs of Cooraclare's Frank O'Brien, whose best-known song is 'Around the Chaple Gates in Cooraclare'. He learned many of his songs from local people, including the late Tom Donnelly and Danny Garry. Marty also played the accordion and was in much demand for weddings - in one year, he played for twenty-two! He regularly played for the straw boys and bacachs - a celebration following a wedding or when a married couple return from their honeymoon - a custom practised in Cooraclare. People would often gather to prepare for such events at the Marrinan's house, where Marty's wife, Maria, would supply the costumes and masks. Marty played with many local bands, including the Cooraclare Ceili Band, The Danganelly Quintet and the West Clare Ramblers. For years, he travelled entertaining audiences around Co. Clare and further afield.
With his unique style of battering, Marty was a noted set dancer and 'Sets' were taught regularly in the Marrinan kitchen in Churchtown. During the Willie Clancy Summer School', Marty often per­formed at the concerts and recitals.
With the help of his family, Marty was responsible for keeping many traditions alive and was always happy to share his talents wherever he went. His house was always open to anyone who loved music, dance and song. He committed his life to the music he played with spirit and to the songs that he sang with feeling - rare qualities, which lie at the heart of tradition