C001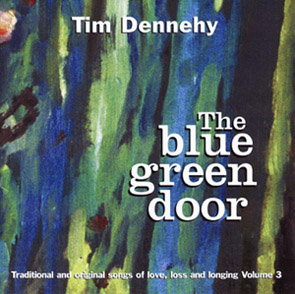 E-TD
 
Tim Dennehy
The Blue Green Door
Price
€19.60 incl postage within Ireland, North and South.
€21.25 incl postage worldwide.
Paypal Ireland:
BUY now for delivery in IRELAND
Paypal outside Ireland:
BUY now for delivery WORLDWIDE
Availability:
This item is in stock and is normally dispatched within 24 hours of order.
 NOTE: if you do not wish to use Paypal you may purchase this CD by sending a EURO cheque to OaC, Spanish Point Rd., Miltown Malbay, Co. Clare, Ireland. Your CD will be dispatched as soon as the funds have been cleared through our Bank account.
 
List of Tracks:
| | | |
| --- | --- | --- |
|   | The Parted Years | 4:07 |
| 2. | Carden's Wild Domain | 3:54 |
| 3 | Is Buachaillín Mise | 4:14 |
| 4. | I Know What I'm Missing | 3:55 |
| 5 | Caiptín O Máille | 5:08 |
| 6 | Wrestling With Rats | 4:10 |
| 7 | Johnny Golden | 4:02 |
| 8. | Boating On Lough Ree | 4:23 |
| 9 | A Rí An Domhnaigh |  4:08 |
| 10 | Seán O Duibhir A' Ghleanna | 4:19 |
| 11 | No More | 4:56 |
| 12. | Memorial | 6:38 |
| 13. | Cry Of The Mountain | 5.59 |
Extract from Sleeve Notes:
About Tim Dennehy
Tim Dennehy was born in Ballinskelligs and later the family moved to nearby Cahersiveen. Both his parents sang and were inheritors of a huge store of songs and stories in the Irish Language. Tim's mother,
Nora Kelly from Cill Rialaig, had developed the custom of constantly singing as she went about her daily chores and this left an indelible mark.
This, his fourth album, again seamlessly blends the old and the new, the original and the traditional. There are three original songs, two poems set to music and three songs in Irish. The remaining five range from the political `Seán Ó Duibhir', "Johnny Golden', Carden's Wild Domain', through the misadventures of 'The Waterford Boys', to the lament for a lost love 'Boating on Lough Ree' . The original songs are worthy of special mention here. 'Cry of the Mountain' again touches on Tim's affinity with the environment, a theme
already explored in previous albums. 'The Parted Years' and 'Memorial' are probably two of his most personal songs to date dedicated as they are to the loss of his brother Pat and his mother Nora. Both celebrate and cherish moments of togetherness and sharing and both transcend death through friendship and love.
Take a journey through 'The Blue-Green Door', then, and share the intensity and passion, the gentleness and love woven through these lyrics and sung by one of "Ireland's most genuine singers".
Other Information:
Format: Single CD with booklet.
Label: Sceilig Records SRCD003